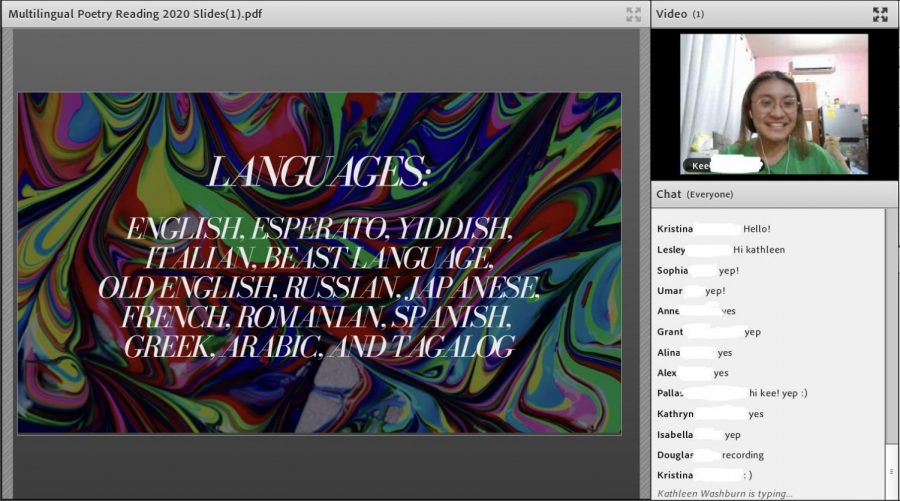 The start of Covid-19 left many people feeling scared, unsure, and isolated. It brought up many negative emotions from across all ages across the world. To Ikera Olandesca ('21), Emma Dreispiel ('21), Alex Cheng ('21), and many others, writing is a way for people to let their emotions pour out onto a piece of paper and help them get through tough times. The latest spring edition of the OHS Literary Journal, Nectar for Withering Flowers, does just that- it is a collection of art and writing from students with themes of sadness and isolation during the pandemic, but also hope and courage to get through this time.
The OHS Literary Club and Journal is a place for students to share their work as well as join together over a common interest. The OHS Literary Club features weekly meetings that range from writing seminars to open mics. The Literary Journal allows students to share their writing and art with others and compiles them into a colorful collection of original art and writing.
Ikera Olandesca (Kee) has been co-leading the Literary Club for two years and coming up on her third. Kee has been writing since a young age and joined the club because of her love for literature and creative writing. During a summer class for reading and writing poetry, she met several English instructors including Dr. Kerr, the Literary Club sponsor, and she expressed interest in leading the club. She had also been an editor for the Literary Journal for three editions.
Emma Dreispiel is beginning her second year at the Literary Club, and the latest Spring edition of the journal was her first time being a managing editor of the OHS Literary Journal. However, she had taken part in four other journals. She joined the Literary Club because she loves writing and reading.
Alex Cheng has been part of the Literary Club for about one and a half years. Ever since Kee had asked him if he was interested in joining. This was also his first time as a managing editor for the OHS Literary Journal. 
 The Literary Club's Literary Journal publishes bi-annually. In the spring of 2020, the club began the issue's submission process. The submission, editing, and publishing process of the spring edition of the Literary Journal, however, was no easy feat.
"You think that it's easy to create because it seems like 'Okay, I just have to read a bunch of pieces and just put them in a document and publish them, and that's easy'," said Dreispiel. "Not really, you have to really see what people are trying to communicate. You have to also see how you want to structure it, how are you going to make it aesthetically pleasing as well. How are you going to market it, that's also something that we do as editors."
Olandesca, Cheng, and Dreispiel spent many late nights reading, organizing, and reviewing submissions in the three weeks of putting the journal together.
"I think the lows were kind of, we didn't structure submissions that well. We stayed up kind of late, trying to figure out what these themes were," said Cheng.
At first, the submissions were low in quantity, but at the last minute, things started to look up. Cheng remembers the excitement of seeing all the submissions roll in.
"I remember it was like two weeks before the deadline, we were like, 'Oh my god, we only have like ten submissions, what are we going to do?' And then, people started submitting late last minute," said Cheng. "Seeing all these submissions just roll in and seeing all these emails you get and Skype messages and all these people so passionate about submitting their work, and you're just like, 'Wow, this is really cool'."
Dreispiel also explains the unique title of the spring 2020 Literary Journal, Nectar for Withering Flowers, and its meaning. 
"We went through all of the submissions and we gave them key themes that we saw. And I went through and matched them with artwork, and through that when we scanned all our summaries, we realized there was a theme of kind of fear," said Dreispiel. "But we also saw that a lot of them had hope and unity… And eventually, we found nectar… The withering flowers covered the negative emotions people were going into quarantine with." 
In addition to being a published work, the spring Literary Journal was also submitted to national contests which will get results back in January of 2021. Dreispiel explained the emotions of getting this journal that many had worked so hard on, published.
"In the end, when we saw the finished product, it was, I can't even describe it, it was really good- it felt good that we managed to get 300 pages of student work together," said Dreispiel.
This experience has taught Olandesca, Dreispiel, and Cheng a lot about formulating, editing, and publishing a Literary Journal. It's also shown them how much of an impact writing had and how many people care so much about this journal.
"The lit journal was originally supposed to show the administration that OHSers care for creative writing and have a passion for literature," said Dreispiel. "And now as a result of that,
we've seen a lot of creative writing classes. For example, the screenwriting class in the spring." 
The Literary Journal has broken stereotypes about OHS and helped open up for a more diverse environment of interests and passions.
"It's shown that Stanford OHS isn't just a place for STEM which is kind of the impression that it gets," added Dreispiel.
Kee, Alex, and Emma all agree that writing is powerful and is a way for OHS students to come together, even when they are all across the world.
"It [writing] has a special way of enabling people to understand themselves, as well as the world and people around them," said Olandesca. "It's an exercise in caring, which I think is rare or at least difficult to do especially at this time."
Submit to the fall edition of the Literary Journal, "The Chrysalis" by Sunday, November 29th, 2020. The journal will be published on Barnes and Noble and submitted to Realm, an internationally organized literary journal competition: https://docs.google.com/forms/d/e/1FAIpQLScxcs9DR4agoWaGSyB2tlm14EVJ2oZmJCqq12u4ysi4lk3JSw/viewform