A Halloween Night: Pixels Meet at Winchester House
On October 23, Pixels in the Bay Area gathered for a night of spooky fun at the Winchester Mystery House.. A historic mansion located in San Jose, the Winchester Mystery House was originally the private residence of a woman named Sarah Winchester. Construction began in 1884, but, due to Sarah's beliefs that finishing the mansion would cause her own death, she saw the manor continuously updated and adapted even years after it was originally supposed to be complete. In popular myths, it is believed that the ghost of Sarah still remains in the mansion, walking around as she oversees its construction. Nine months after Winchester's death in 1922, the Winchester Mystery House became a local Halloween attraction. 
"
The event was perfect for Halloween."
— Ani Partha
Right in time for Halloween season, Pixels first met on the Stanford campus for a hang out and study session. They then headed over to grab a bite at local pizza place Pizza My Heart before finally exploring the Winchester Mystery House for a night of spooky fun. As OHSer Ani Partha says, "The event was perfect for Halloween. It was a lot of fun, and I got to talk to some of my friends."
Social get-togethers are a core part of the OHS community. Being able to meet online friends in person and getting to interact beyond the screen is one of the most enjoyable activities for students. 
When asked what his favorite part of the event was, Ani says,  "My favorite part was getting to hang out with my friends and exploring the Winchester house. To me, the social aspect of this was the most exciting."
Though there weren't any reported sightings of Sarah Winchester's ghost, the trip through itself had its own scares. Ani says, "At first, we were a bit nervous because we weren't really sure about the jump scares. And though it was scary, it wasn't super horror scary or violent to the point where I'd come back home feeling disturbed. I'm not too interested in horror, so I was glad this was the type of scary I liked."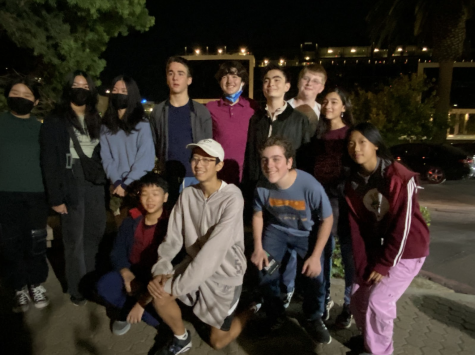 After their journey through Winchester House ended, the Pixels gathered for group photos and some fun at the arcade. The in-person event was a hit, with students being able to meet each other in person and having fun together. Ani says, "Before attending OHS, I was getting completely home-schooled, and while that was effective academically, one problem was that there wasn't that social aspect that going to OHS has. So, I'm really happy I came to OHS and it has a really active community." The community here at OHS is one of the best things here, and with more and more in-person meetups, the connections we've formed with our fellow students now really have a chance to shine. 
Ani says, " I would definitely attend it again, it was a lot of fun!"
Leave a Comment