Antonio Prieto – A Light Lost Too Soon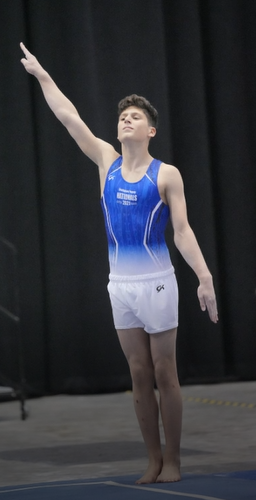 The OHS community lost an important member, Antonio Prieto on Saturday, January 8 to a tragic car accident that also claimed the lives of his parents. A passionate gymnast, enthusiastic student, and kind person, he was a very important member of the class of 2024 and our OHS community as a whole and will be deeply missed.
His classmates and teachers describe him as a kind and positive person with a great sense of humor and the ability to make people smile. One of his OHS classmates says that he was "always energetic, enthusiastic and positive." Another classmate echoes this sentiment, saying that Antonio "was always making people smile, and he made each class exciting. I'm going to miss him." English instructor Dr. Russell shares, "Antonio was a bright light and a smart, compassionate person who brought so much life and energy to TAA." Fellow OHS student and classmate of Antonio's, Khensa Musaddequr Rahman (24'), also remembers "Every interaction I had with him he was always kind — always kind. He also had a sense of humor that made everyone in the room smile."
Another common feeling shared is the respect Antonio showed toward others' points of view, making everyone feel supported during class. Core instructor Dr. Khatchirian says that even though she knew Antonio only for a few months, she will always remember him as being "gentle, thoughtful and humble". She adds, "He was an enthusiastic learner and an invaluable participant in our class discussions. Antonio had a genuine desire to make sense of perspectives different from his own and a real appreciation of the importance of seeking this understanding. It was a privilege to have been his teacher." His classmate from HSC and Biology classes, Tanisha Gupta (24'), agrees, saying, "[He] was so supportive of everyone's perspective and really gave me the confidence to speak up in class more. Thank you so much Antonio, I will miss him so very much."
His passion for gymnastics and beliefs in great dreams truly set Antonio apart. Dr. Russell recollects, "He was open, authentic, passionate about fairness, and made all of us laugh with his Dance Moms references. His mother was so, so proud of him, and sent me frequent updates on his gymnastics career." Finally, a family friend writes in the Prieto obituary, "Antonio was the epitome of love, light, and believer of dreams and possibilities. He had the intensity and passion for gymnastics like his mother, and the incredible sensitive and emotional awareness of his father." 
Antonio Prieto will be greatly missed for the light, positivity, and humor he brought to the OHS community. The OHS Observer gives our gratitude to those who shared their kind words in remembrance of Antonio with us, and we send our deepest condolences to the Prieto family during this difficult time. The OHS Counseling Department encourages students to reach out to their counselors if they are grieving or otherwise need support and provides additional resources on our Gateway for coping with adversity.
Leave a Comment