Equestrians @OHS
"A true horseman does not look at a horse with his eyes, he looks at his horse with his heart." – Unknown. Meeting with members of the Equestrian Club, I know this to be true. Their relationships with their horses are very strong. Many of the Equestrians I spoke with described their horse as their best friend. 
A small cohort of about 15 people, who share a passion for horses, form the OHS Equestrian Club. It is a great place for fellow horse-lovers to gather and discuss their equine friends! Group members participate in a range of activities from competitive showing to recreational riding. The common theme is their love and enthusiasm for horses. The club is also an excellent place to be introduced to the world of horse riding and horses! Besides a check-in and status update, the club converses on horse health and techniques for horse care. Some examples include the impact of the California Wildfires on horse health and lungs, tips for blanketing and clipping horses, which helps horses stay warm in the winter and keeps them well-groomed, common foot injuries, and competitions in various disciplines. 
Surprisingly, none of the current members of the club race! Some compete in different disciplines such as Dressage, Jumping, Hunters, Equitation, Liberty Work, and many more! Both riders and horses have important stats based on performances that are tracked by the United States Equestrian Federation. Horses usually have a show name in addition to their barn nickname. We have created a short glossary for your reference at the end of this article. 
Athlete Name: Grey Peters 24'
Disciplines: Dressage, Jumping
Style: English 
Horse's Name: That's My Girl (Babe)
About Her:
Grey Peters is enthusiastic, committed, and absolutely passionate about riding, the Equestrian Club, and her horse. To her, the most important part of horse riding is the bond that she has formed with Babe, her horse. She says "Even if you have a really fancy horse, you're probably not going to do that well if you don't have a connection or bond with them". Being the only rider in her family and close circles, she knows that sometimes it can be hard to form a community, but she also thinks that if you're really passionate about something, nothing can stop you and there are always ways to get into riding if you really want to. When it comes to choosing a type of horse, Grey believes in looking at the personality. Babe has an amazing personality and their journey together is the most important part of her horse riding experience. As the leader of the club, Grey cherishes her fellow horsemen who understand her concerns and joys in relation to her horse. She appreciates the opportunity to manage her schedule flexibly with OHS as she is able to go riding in the afternoons. According to Grey, there are no specific requirements to start riding, but having a trainer you "click with" and a support system amongst friends and family is super helpful. She hopes that the Equestrian Club is able to form a support group for fellow riders and help riders find good trainers. To ride, you don't need to have a horse of your own. The best thing to do is find a barn and start working with a horse that you like. Grey and Babe have a weekly routine that they follow, except during showing weeks. Grey currently competes in the discipline called dressage, which she likens to ice skating. She has participated in show jumping in the past. Grey enjoys all of the time that she spends with Babe and with the Equestrian Club! She hopes that some of you will decide to join as well!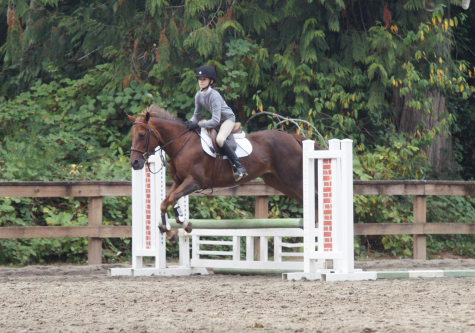 Athlete Name: Tommy Morford 24'
Disciplines: None; Recreational Riding
Style: Western
Horse's Name: Midnight
About Him:
Tommy Morford fell in love with the "really smooth ride" and the "incredible feeling" of gaited horse riding. A gaited horse moves each leg individually and in doing so provides a much less bumpy ride for the rider than a normal horse would. Tommy's first experience with riding, however, was at the age 6 or 7. His horse, Midnight, is a 17 hand high gelding-bay Tennesee Walker. Bay is the color between reddish-brown to brown. Tennessee Walkers are a breed of horse that performs a gait, which is kind of like a tempo, called the running walk, and Midnight can perform a rack. Being a pleasure rider, Tommy doesn't get many opportunities to speak with other riders so he loves the community at the club. His advice for people looking to get started would be to just dive right in. He thinks "taking lessons" and "finding a trainer" are the most important steps to starting your journey with horse riding. He also thinks it's important to have a confident and strong personality in order to control the 1000+ pound animal. He also suggests that if one is looking to get their own horse they should be very aware of the immense amount of time and effort it takes to care for the horse as well as riding it. Tommy's bond with his horse is very strong. He is able to understand Midnight's cues just about as well as Midnight can understand his. He thinks that he has learned a lot from his experience working with Midnight and spends "around 35 hours" at the barn every week because of it. Currently, Tommy and his horse are going through a training program and will form a weekly schedule once the program has completed. He hopes to continue working with horses in the future and maybe enter the discipline of dressage!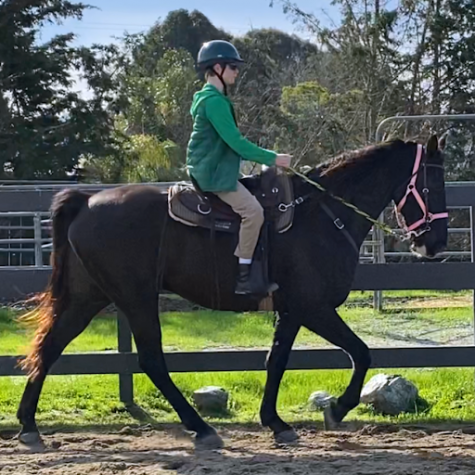 Athlete Name: Emma Nathanson '21
Disciplines: Hunters, Jumpers, Equitation
Style: English
Horse's Name: Ziggy
Starting Age: 1
About Her:
Emma Nathanson started her riding journey being placed on a horse by her mom at 1! She believes that a journey with one's horse is more important than any other aspect of riding. She primarily works with ponies and trouble horses to form a bond with them and get them through stages of their life building trust along the way. Sometimes people will disregard a horse that doesn't cooperate "out of the box"; however, with a little bit of time and effort, they can be really successful. She cited the movie "Harry & Snowman" as a good example of such a case. In the movie, based on a true story, a trainer buys a retired plough horse and trains him to win the Triple Crown in Jumping. Getting together with fellow club members and learning about their stories is what Emma enjoys most about the Equestrian Club. She enjoys the ability to talk with members from other disciplines because she doesn't often get to hear about other disciplines of horse riding. According to Emma, "loving horses is the only requirement to get started!". Sometimes it can be hard to get started, especially since riding is a financially demanding sport, but there are multiple ways in. She thinks that owning your own horse is not a requirement and there are organizations, such as the IEA, which help riders without their own horses, looking to ride at competitions. Emma herself is a working student and works as an assistant trainer to counter her training costs. Emma has learned a lot from her horse that she feels she can apply to working with other people. For example, if she's in a funk when she goes to the barn, her horse can sense that and will probably not respond well. So she has to keep her emotions in check and make sure to be patient. Similar lessons can definitely apply to everyday life as well! Emma definitely plans to ride in the future and hopes to get into endurance training.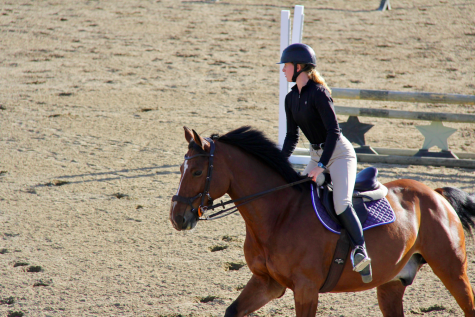 Athlete Name: Macy Levin 21'
Disciplines: Hunters, Dressage, Liberty Work
Style: English
Horse's Name: Tuck Everlasting (Tucker)
Starting Age: 11
About Her:
Macy Levin is really passionate about horses both inside and outside the competition field. Her measure of success is the "level of a bond and trust that the horse has in you". Her favorite part of the club is having a bunch of people who love horses come together and share tips and other helpful things about horses. While Macy started riding at 11,she was much younger when she memorized the entire horse encyclopedia for fun! She definitely thinks that the stereotype that horse riding isn't really a sport because the horse is doing all the work is not true. It takes a "lot of courage to get up there" and a lot of effort and work to be able to do all the things that horse riders make look so easy. She loves the way that she feels free with "the wind blowing in her hair" when riding at a canter. She enjoys getting to know each of the horses she works with because they all have unique personalities. Some have "little quirks and personality traits and they're a lot like people in that way!" She has developed lasting friendships at the barn and relationships with her instructors. Her horse Tucker is perfect for hunters because he meets all the basic requirements and is also experimenting with dressage. Her bond with Tucker is extremely strong. So strong in fact, that she has been pretty successful with liberty work. She finds this the most rewarding part of her work because their connection is on such a deep level that he is able to understand her without the normal physical cues. Tucker fell ill after Red Maple Poisoning, caused by eating leaves of a red maple tree. During rehabilitation, they worked each day to increase the speed and distance Tucker could travel in order to get him back into shape, and now Tucker competes regularly!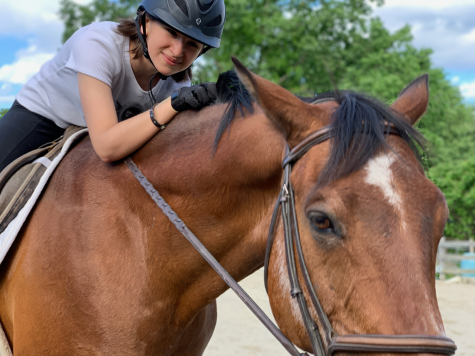 Athlete Name: Lauren McCaulley '22
Disciplines: Jumpers, Equitation
Style: English
Horses' Names: Show Name (Barn Name): Tenacious D (Darcy), Blue Sugar OTJ (Sugar), Chacco Star (Chacco), Apollo, Epeios ( Red ), Absolhut (Abby) 
Ever since meeting a friend's horse for the first time around age eight, Lauren McCaulley knew she had a passion for the sport. In the years since, she and her sister Kennedy have traveled the country to compete at the highest levels. Lauren participates in show jumping and equitation. She joined the Equestrian Club and says, "I think it's just really fun getting together with other people who ride, because they kind of understand what you're talking about and everything. You can talk about if your horse gets injured or something, they can understand that, so it's good to have people who just know what's going on." Lauren competes on a weekly basis. Each time she places highly, she earns either a monetary prize or points that go towards qualifying for the finals. Typically the final event selects the top twenty to twenty-five riders with the most points or money earned to compete against each other. Lauren and Tenacious D won the year-end finals in 2019, which she says was "a lot of fun and a great experience." Most horseback riding events are individual, but Lauren has occasionally competed in team races. Though most of Lauren's competition horses are experienced, she occasionally helps younger horses get accustomed to the ring through basic walking and trotting. Her family currently owns four horses and leases two. Aside from Darcy and Abby, who are currently not working, Lauren rides the rest of the horses six days a week. "That's a lot for the horses to be doing, so they won't show every week; usually they'll have two to three weeks on, one to two weeks off depending on how they need it, just to get rehab work done in between and get their energy back." Her advice for people who want to get started with riding is to seek out training opportunities, available at most local barns: "Ask anyone near you who is into riding and they can recommend a program." She also advises to pick programs based on the discipline you want to go into, as most barns specialize their training. Though Lauren's introduction to riding was serendipitous, her love for the sport has stuck with her despite its time-consuming demands – her family has moved to Florida for the winter, and during the summer they travel to several states for competitions. "Everyone has different stories, but for us, it was a really random thing that we got into, we literally just went to see our friends' horse and started riding and it just started growing from there," she says. "It's been a really great experience, a lot of fun, and the horses are amazing. I definitely couldn't imagine not doing what I do." 
Whether you are an experienced rider or a newbie interested in learning more, the Equestrian Club welcomes you! In the future, the Equestrian Club plans to have some guest speakers and hopes to coordinate with the pre-vet circle as well. To participate, join the Skype chat which can be found in the OHS Skype directory. 
Index of Terms:
Leave a Comment