Hollywood Handshake-Worthy Or A Soggy-Bottomed Disaster?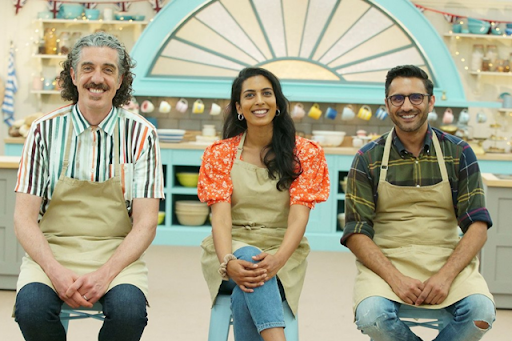 The Great British Baking Show proudly celebrated its twelfth anniversary earlier this year, bringing with it a fresh tent of contestants, bakes, and particularly sticky situations.
The show has developed clever editing techniques through its many years to keep people watching, such as the witty orchestral music to convey the mood or cut scenes and specific angles, which positively manipulate the viewing experience.
The show's specific ability to create depth of emotion is probably most notable, and many find themselves fully immersed in the simplest elements of each new episode. The presenters, Noel Fielding and Matt Lucas, have an incredible talent for bringing a light-hearted spin to situations, and with each elimination viewers collectively feel their hearts drop, evoking a range of emotions throughout the show. The bakers themselves are crucial to the show's authentic feeling and excitement as well. This year, the program presented a variety of personalities, all woven together to create a unique dynamic of entertainment, support and humor.
Yet only some were "TV ready." The Baking Show is extremely fair and consistent with regard to how they judge and eliminate; however, the bakers who prevail often have a personable air that endears them to the audience. While coming from a variety of backgrounds and baking traditions, bakers favored by the audience tend to have a few traits in common — relatability and a down-to-earth persona. I personally found myself often really enjoying the character of Giuseppe, who coincidentally was just skilled enough to win it all.
Truly though, some of the best bakers yet walked into the tent this season. Evenly matched, deadly talented, and all prepared to win, it was a roller coaster of hierarchies, with one contestant acing the assignments one week and forgetting a simple ingredient the next. But in the end there were three, each with a bright aura and undeniable talent.
"
The show epitomizes skillfully made British television, but I do wonder if it can continue to maintain relevance as more baking shows raise the stakes (and the cakes).
— Lily Parry
Many programs nowadays seem to take advantage of people's hobbies and interests, and some even are attempting to draw direct inspiration from The Great British Baking Show itself. The Great Australian Bake Off is releasing a brand new season in 2022, making it clear how popular the Great British Baking Show's format has become, with its marketing increasingly more widespread.
As most will probably agree, The Great British Baking Show will continue to be a timeless classic and a favorite form of entertainment for many, and with the newest season closing, we're all already looking forward to the next batch of episodes.
Leave a Comment