How to Plan (and Run) Successful Online School Events: Student Government's Take
"I want to point out that event planning is not just for people in student government," emphasizes Nikolai Ortiz, the Board Chair of Events at Stanford OHS. He points out that many successful events at the school, such as the popular OHS House Party, have actually been proposed and co-organized by non-student government members. So, how can you plan and run your own successful school event on the OHS platform? The President, Alexandria Thomas;  Board Chair of Communications, Ikera Olandesca; Board Chair of Events, Nikolai Ortiz; and other members of the OHS student government share their experience and insight.
First, it is important to note what makes a successful online school event before organizing one. All three executive committee members interviewed named one thing as a huge component: "participation". Alexandria points out making the most out of participation is the best way to make the best event. Ikera elaborates that a big part of "hyping up participation is marketing." She recommends tailoring your marketing plan to your specific event's topic. For example, the Lit Club advertises through humanities Skype chats to attract the most attendance to their events. Additionally, Nikolai listed three important traits to blend into an event along with substantial amounts of audience participation. 
"Students want to feel their participation in an event makes a difference, especially in an online environment."

"Students really want to leave an event feeling fulfilled, like they got something out of it, even if it's just a laugh."

"Students really appreciate it when they get something from the event they couldn't get otherwise. Uniqueness is important." On this note, Ikera adds that although being innovative is key to making your event attractive and successful, there are still several traditions that always work well with OHS students. For example, Kahoot and movie nights, just to name a few. 
The process of planning successful events begins as early as several weeks to several months in advance. Below is a chronological list of planning tasks with time stamps and tips from Alexandria, Ikera, and Nikolai.
1. Months Ahead: Know how many events you plan to host every month or even every semester.
Ikera finds it helpful to always have events "on your radar" far in advance. This can help minimize procrastination and allow you to be on top of organization and deadlines. All three ExComms agreed that you can never go wrong with "start[ing] early."
2. 2-3 Weeks Ahead: Develop an idea for your event and get student government and/or Student Life into the loop early.
All three ExComms pointed out that planning out how your event is going to go and what is going to be featured at your event should come before advertising. This way students will have sufficient information to gauge their interest in your event when you do advertise. Nikolai caps that all official school-wide events need to go through the student government and Student Life committees to get approved before you can start event planning. Arrange a meeting with student government ExComms to propose and discuss your event idea. Student government will give you the resources and team you need as well as make any necessary modifications to your idea based on their past experience. Student Life is there to help you figure out the best time for your event so there is no concerning overlap with other events. Student Life can also spread your event marketing to a greater audience through platforms like the Pixel Weekly and TGIF. Besides coordinating your event time with other events, Ikera highly recommends scheduling your event in accordance with the OHS academic calendar as well.at a rigorous school like OHS, students are very busy. Ikera warns to not plan your event "in the middle finals week, when so many midterms are overlapping, or on the one specific day where students' core papers, English papers, and math assignments are due." If you do, attendance to your event will be significantly lower. Ikera adds in "event frequency" as the second major thing to consider when scheduling your event with student government and/or Student Life. She says event planners should note that "the more an event recurs, the less likely people will join because they always think there's a next time."
3. 1-3 Weeks Ahead (depending on your personal preference): Organize and communicate specific event details with your team.
Details like the event itinerary, platform, intended audience, invited instructors/guest speakers should be planned and clearly communicated within your team a week or several weeks in advance. Ikera states that 60-70% of your planning should be in place and all necessary speakers should be secured before marketing your event. One reason is that it would be disappointing if your event was advertised to feature a certain guest speaker before you actually contacted the speaker and the speaker refused your invitation after students were anticipating their appearance. Grey Peters, the Freshman Class Vice President, suggests creating the slides for your event first. She says not only are slides fun to make, creating them early can offer you a concrete plan of your event agenda from the start. Nikolai adds that "you can never really organize an event too much, whether that's making spreadsheets, keeping track of survey forms or following up with people that have signed up." Effective communication with your team members is also extremely crucial to make sure "everyone is on the same page with deadlines," Alexandria stresses.
4. 1 Week Ahead: Advertise your event!
At the OHS, there are many communication platforms like Skype, Pixel Weekly, and Sesame, just to name a few. Ikera advises marketing your event on every platform possible. Marketing your event on multiple platforms keeps people from feeling bombarded because the information is displayed in many different formats. Alexandria recommends advertising only once on every platform and a maximum of 2 times in the OHS Skype Bulletin so students are not excessively bombarded with advertisements and lose interest in your event. Your first message in Bulletin should be sent out a week in advance (see Step 6 for more details about the second Bulletin message). All student government members surveyed emphasized advertising early and advertising well for maximum attendee turnout. Your advertisement should clearly communicate enticing details of your event, the date and time of your event, and where it will be hosted. Specifically, one student government member specifically advises including a visual piece in your advertisements. As another way to hype up participation, Alexandria suggests having people sign up for your event beforehand while still allowing people who did not sign up to participate. The latter point is so you don't discourage people who didn't sign up for your event from attending. For example, if you were to hold a game-style event, you may want to consider sending out survey forms to have interested people sign up for teams. This way you can: 1) ensure that a good number of people will attend and participate and 2) gauge how many people are interested and adjust your plan to increase participation and attendance if interest is on the low end. 
5. 1-2 Days Ahead: Do a quick rehearsal of your event and double-check everything to practice and sort out technical difficulties.
With an online school, technical bumps are inevitable. Take the time to double-check your slides, movie downloads, or anything else you need. This will allow you time to develop backup plans if things do not go smoothly. Additionally, having a practice run-through under your belt will help boost your self-confidence for the day of the event.
6. 5-15 Minutes Ahead: Send one last reminder in the OHS Skype Bulletin to encourage students to attend your event and check tech one last time.
Sending a Bulletin message a couple minutes before your event will serve as an effective and friendly reminder for prospective attendees. Alexandria clarifies that this should be your second Bulletin advertisement with your first one issued a week before your event. The message should again include details of your event and a link to where it will be hosted. Log into tech several minutes early to sort out and communicate any last-minute tech issues. Besides sending out final reminders and verifying tech, there shouldn't be any other preparation or planning you need to do on the day of your event. 
7. After the event: Reflect on your event and what you could improve next time.
Ikera explains that your event does not end once you've finished hosting it. It's beneficial to take time after the event to reflect on what went well and what didn't go well so that you can do better next time.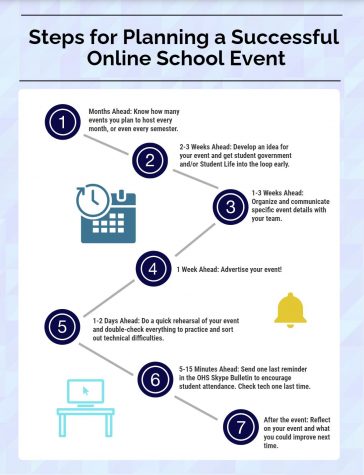 Many SG members and ExComms also brought up obstacles that come up while running an event. Alexandria lists "technical difficulties" as the main culprit. Ikera says that when things go awry, "Being calm is so difficult but so important." Both Alexandria and Ikera encourage you to have someone else run the event with you so they can "have your back" if you run into issues. It's also crucial to prioritize communicating to your teammate(s) that you are struggling so they know to back you up. Several SG members, including the ExComms, have recommended calling upon your "spontaneity" and "just going with the flow" as the best ways to overcome hiccups–or in the worst case, disasters–when running events, whether that means "ending early, shifting gears, or somehow word vomit[ing] for a while and ask[ing] people question" as Alexandria shares. She adds that "sometimes having a badly run event can be more rewarding if you come back from it than just having a bunch of successful events." Additionally, Nikolai stresses that the OHS student body is incredibly understanding. People understand that difficulties can come up while running events so be sure to also communicate to your audience any issues you're having as the event runner. 
Most importantly, having fun as the event runner is equally as valuable as carefully planning everything. As Kabir, the Freshman Class President, puts it, "A great event is fun for everyone who's attending it, but also for the people who are hosting!"
For a full list of responses to the tips and advice survey sent out to student government members, see here.
View Comments (1)