Jeanine Yuen: A Dancer For All Seasons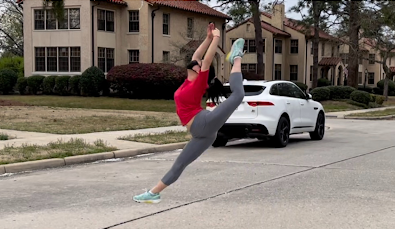 Meet Jeanine Yuen, a senior dance student from North Carolina. Jeanine practices ballet, contemporary dance, lyrical dance, jazz dance, and acro. Jeanine does not stop dancing, whatever challenges come her way and loves dancing wherever; whether it is inside a studio, or in a wide corridor.
An average day in Jeanine's life consists of classes, socializing, and dance. Dance takes up the entirety of her afternoon, with back to back classes in every style. Jeanine dances a minimum of three hours per day, accumulating to more than 15 hours per week, not including the occasional weekend. Jeanine started dancing when she was 3 years old but she does not aim to be a professional dancer and is pursuing dance as a hobby.
Jeanine continues to "work hard to improve…despite any obstacles" and will never "give up on her passions," said Jules, a friend of Jeanine's from OHS.
"
Dancing is an escape from the cacophony that is the world"
— Jeanine Yuen
Jeanine said, "Dancing is an escape from the cacophony that is the world. It is a way to expand my dictionary of the wonders within."
These wonders, she said, include "the movements from the Renaissance, [the] actions on the big screen, and [the] numbers from age-old cultural traditions."
One of Jeanine's close friends, Benjamin, describes Jeanine as one of the "most helpful and artistic people [he] know[s]." As a peer tutor for multiple classes she is a great teacher. As the leader of the photography club, she also gives "insightful comments, encouraging words, and artistic abilities" which have "brightened the atmosphere".
However, dance comes with a few challenges for Jeanine. Every few years, Jeanine moves; her father is in the military and this requires them to move every three years. Because of this, her dance coaches continuously change. Her current studio is aware of this, which causes coach-athlete tension that isn't beneficial for Jeanine's success. The pandemic has only exacerbated the already existing tension, forcing Jeanine to continue to find ways to participate in an activity that means so much to her. She now must practice in open spaces, which can be difficult after years of practicing inside studios. She likes to practice in any "courtyard, room, or wide corridor!" by herself and each time, pushes herself  "to do the best [she] can".
Jeanine draws inspiration from Julianne Hough, an accomplished dancer, singer, and actress. She mainly admires the fact that "she is a triple threat – dancer, singer, actor – that has worked to be where she is now."
In five years, Jeanine hopes to graduate college with a minor in performing arts, allowing her to pursue her dreams of being a nationally acclaimed dancer.
Leave a Comment