JMP Into STEAMS: All About Mason Chen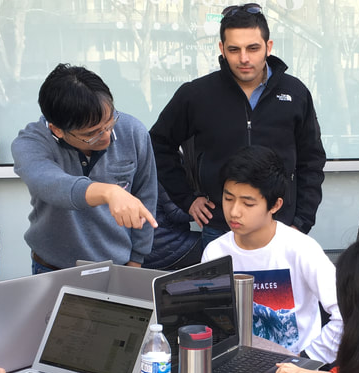 Imagine standing in front of hundreds and thousands of professors, Ph.D. students, and industry professionals, presenting your project as a high schooler. Though perhaps a terrifying thought for most students, 15-year-old Mason Chen '23 embodies the exhilaration of being able to showcase his undeniable talent for a subject that even the most accomplished professionals in the industry often struggle to understand. "It's such a valuable experience," Chen said.
 Chen, now entering his fourth year at Stanford OHS, was first introduced to statistics as an elementary school student and became immediately fascinated with big data and its ability to chop down complicated numbers into simplified conclusions. Since then, under the guidance of several accomplished advisors, he has published over 20 conference-proceeding papers and has won numerous awards including the Best Conference Proceeding Paper Award in the 2018 JMP (pronounced 'jump') Discovery Summit. With multiple International Business Machines Statistical Packages and Software Services certifications (IBM SPSS) and International Association for Six Sigma Certifications (IASSC) under his belt, Mason now sets his sights on introducing other students to the power of statistics as well.
 As the club founder and leader of Science, Technology, Engineering, Artificial Intelligence, Math, and Statistics (STEAMS), Mason hopes that he can inspire his fellow peers to see the beauty of combining statistics and artificial intelligence with the typical core STEM subjects.
 "Statistics and artificial intelligence are often pretty underrated,"  said Chen. " Both are core concepts to problem-solving, so it's really important to incorporate them into STEM. At STEAMS, we're really working on helping students add in AI and statistics into problem-solving, with an emphasis on developing these skills at a young age in middle school and early high school so it can be utilized in the future."
 STEAMS isn't just a concept — it is an action-packed club. Since the initial founding of the parent organization in 2015, they have accomplished several substantial projects that have won multiple awards at prestigious conferences. "One of our biggest projects was collaborating with an MLB pitcher to improve his pitching, where we basically built a model for him on how to pitch more efficiently," Chen said.
But perhaps one of STEAMS' largest-ever projects was taken on by Mason himself and was finished after a lengthy period of over four years. "I did a project on chocolate, and we set up a formula based on chocolate ingredients with relation to heart disease, and calculated it for each type of chocolate that we bought. Eventually, we were able to use very advanced statistical tools to apply that formula to multiple types of chocolate. We later did many other models such as neural networking and we found out that Vitamin C was one of the most important predictors in terms of heart disease," explained Chen.
However, while the chocolate heart disease study was a success and won multiple major conference awards including Best Proceeding Paper at the 2018 JMP Discovery Summit, it goes to show that patience is a virtue. The entire project lasted four years – 2016 till 2020 – beginning in Chen's middle school years. Chen explains the process:
There was a ton of preparation and analysis involved both with the research and the actual modeling. I think it's quite tough to address your project objectives well, starting with finding the right data to collect and obtaining that data which can take a few months (sometimes re-collection is needed). Continuous revisions of your objective might be necessary if you can't obtain the right data, and the worst part is after collecting and analyzing your data, your results don't come out to be significant which limits the potential of your project, and a lot of people usually abandon the project then. It's really hard to overcome this since you have to force yourself to find a new direction for your project in order to have a good enough finding to present to the world.
"For aspiring students in seventh, eighth, and ninth grade, the earlier you enter the more you're able to get out of STEAMS, but it's definitely difficult to get motivated because STEAMS is extremely hard," said Chen.
Chen explained that this year, he is taking the club in a different direction, focusing more on group publications rather than individual work. "Now that we have several specific themes set up, group projects will be a main focus for the club. It's definitely a pity that we can't meet up and travel as a team due to COVID-19, but it's great that we are really valuing teamwork and collaboration this year," he said. 
A current STEAMS club member, Saloni Patel '23, commented on the value that STEAMS provides, saying that she was "astounded by the level of intricacy and precision within the projects," as well as the standards that Mason holds himself and the club to. 
STEAMS deputy director and Chen's longtime advisor Patrick Guiliano seconds the above statements, saying that he has always been "amazed by [Chen's] ability to successfully lead the STEAMS group and clearly explain extremely complicated subjects in a way that allows everyone to comprehend the specific technicalities involved."
One of the reasons why Chen is so successful in leading himself and others in his club is because he recognizes the value that comes with it. "STEAMS has really allowed me to establish more connections and have more people to assess my work and improve my skills. I think the most important aspect of it is that it gives you the opportunity to deliver presentations to professors and opens your eyes to the professional world," Chen said, "I've had the privilege to work with world-renowned researchers and professors by working on these projects and presenting them at various prestigious conferences."
"It's obviously a really big achievement, especially for high schoolers, and we're proud to say that we have helped around 40 students submit to official conferences over the years. We're hoping that the number of students impacted by STEAMS will continue to grow as we expand as an organization and as a club," said Chen. 
As STEAMS continues to expand under Chen's leadership, it is exciting to see its club members begin new projects and push their limits as they continue their ventures with statistical conferencing.
Leave a Comment