Kabir Gupta: A Passionate Student Leader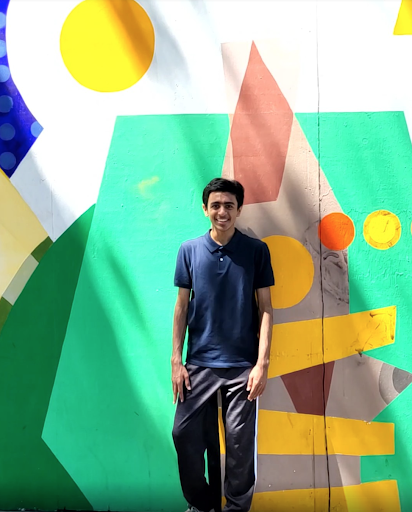 Every morning Kabir looks forward to his 8:50s. After a 20 minute meditation session, Kabir gets ready for his class. Opening up his computer and coming online for his class at 9am a message pops up – the 8:50s. "As I had a 9am class, my friend would send something at 8:50 every time knowing that I'd be there just before class… and it wasn't for any particular reason or anything, just to talk.. just because she cared." This is one of the main reasons why Kabir loves OHSers and the Pixel community so much! Kabir states, "this is what Pixels mean to me. Because they make me feel meaningful".
As Kabir puts it, "you come for the academics but stay for the people". Kabir's favorite part about OHS is basically everything. "Community is what inspires me. It is the single best thing about what I love about OHS (other than the classes)."
To Kabir Gupta, a junior at Stanford Online High School, the president of Student Government, as well as History Club Leader, and a pianist/violinist, the Pixel community is basically the microcosm of the world.
"
Community is what inspires me. It is the single best thing about what I love about OHS (other than the classes)."
— Kabir Gupta
"There are all sorts of opinions and all sorts of diversity. If you randomly sample the world, you would get a representative sample of the world, but OHS is not like that, as the world has some nice people and some not nice people. Every single Pixel has something called the Pixel spirit, to help other people in the community, be a part of the community, hang out in the community and spread their love."
As a way to explore the pixel community even further after joining OHS in 7th grade and considering himself a history buff/enthusiast, Kabir joined the History Club in the last week of school in 7th grade for a history based jeopardy game, and found his passion and love for the club.
In the following years, Kabir has shown up to the club almost every week making him one of the clubs most active members. Taking his passion to the next level, Kabir has stepped up and taken over the History Club's leadership. Over the last two years he has not only learned a lot about leadership in general and random history facts, but has also been able to discover a small, but great community of history enthusiasts.
As Kabir entered his 3rd year at OHS as a ninth grader, he decided he wanted to give back to the OHS community and ran for freshman representatives alongside Grey Peters (24'). Since then, Kabir has been a big part of the OHS community, since he began his journey through student government. Winning the elections in 9th grade, Kabir was freshman representative and was later elected as Board Chair of Events as a sophomore.
Now in his 5th year at OHS and 3rd year as part of Student Government, Kabir has been elected as Student Government President. As he describes his journey, Kabir mentions that one reason he stuck with student government through high school is because of his mentor Nikolai.
"One of the single best parts of being freshman president, apart from all of the other good parts, was having a mentor in the form of Nikolai Ortiz ('21)," he says. "Back then he was our mentor. He taught me a lot about student government but also in general. Like the reason why you should not procrastinate but also how to run events, how to attract people to come to your events, and how to have the right kind of personality for someone in student government."
Being able to juggle History Club, Student Government, being an amazing tutor, and spending time with friends and family hasn't been an easy task for Kabir and through this journey, he has noticed that it has been a challenge.
"I am facing balancing different parts of life: splitting yourself apart as there is the you in class, the you who does homework, the you who is student government, the you in extracurriculars, and the you who is there for your family."
Leave a Comment