New Teacher Profile: Ms Hamaoui
Peanut? No not the food, the pug! The Physics Pug! Not every physics teacher has a physics pug, but Marie is not your typical physics teacher. For one, she doesn't mind being called her first name, Marie, by students and teachers alike.
Marie Hamaoui teaches Inquiry-Based Physics and Honors Physics at OHS. She currently lives in Florida but is originally from California.
Ms. Hamaoui got her undergraduate degree in biology at New York's Yeshiva University, and received her masters at the University of Miami. She then became a biomedical engineering researcher.
At first she, "wanted to become a doctor, but was discouraged from being a doctor…by doctors." When Marie was a bit older, she became interested in engineering, physics, and math, so Ms. Hamaoui thought engineering was a good path. Plus, she was still interested in the human body and biology, so biomedical engineering was the obvious choice for her.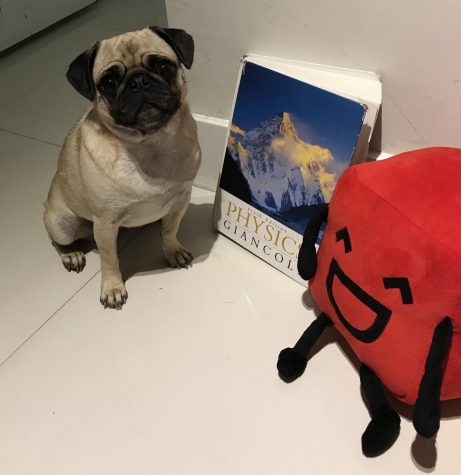 Working as a researcher in biomedical engineering was very isolating and lonely for Ms. Hamaoui. One of her friends thought she would be a good teacher, and by chance, a local school happened to be in need of a teacher, so she took up the job for some extra money.
"As I taught more, I began to love teaching even more," she remarked. Being with students and teaching something she was passionate about while getting other students to feel passionate about it was what really made her fall in love with the profession.  
When reflecting upon her career path, she found, "Even though I'm not in the field, I still read papers about the latest advancements, but I still like teaching a lot more because of my students."
Before joining the OHS, Marie taught for 20 years at private day schools in the Miami Area. She also taught at a homeschool group for some time.
Awestruck by the Stanford brand, "like OMG Stanford," she says, she submitted her resume to OHS when she saw an OHS job post at the National Science Teacher Association. She never thought her resume would be good enough, but to her amazement, she got a call back!
After learning more about OHS, she realized that philosophically, OHS is exactly how she feels about teaching. "I love my co-workers and it was a no brainer once I found out what it was about."
Years prior, she had looked for resources to help her children when she came across EPGY, another Stanford youth program. When she found out it was the same school she was looking to get a job at, she was thrilled.
Her tips for students are to be curious and to feel safe to fail, because failure is learning. "It's fun when things don't go the way you plan," she noted. "Give something a risk even if you might not succeed. Have courage to try something new and be ok with failure." As Marie pointed out, "It's not bungee jumping. There are bigger risks in this world than that. Putting your hand up and yourself out there is not a big deal."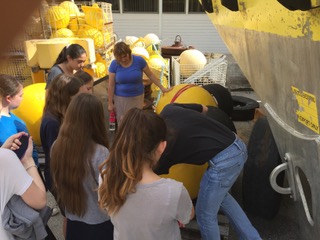 The best part of her job is, you guessed it, the students! The worst part is "grading…having to judge their performance…I don't think people like to be judged so that's the hard part,".
Her pet peeve in students is when they care more about the grade then the learning. However she says, "that's understandable…you guys have a lot of pressure for grades so I try to create an environment where you can always improve the grade and don't have to worry about it as much…so it's like a pet peeve that I understand though,".
This summer you may have met Marie at Summer at Stanford: she taught the 3D printing course where students built their own 3D printers and got a chance to 3D print objects.
Her interest in science extends into real life too. She saw the eclipse in Charleston, South Carolina this summer and worked with high need students in integrated science and literature programs.
Marie's heroes are Neil Degrasse Tyson and Wonder Woman. "What I thought was great is because the actress has an accent that they had to make every Amazonian woman now have an accent. 'That's the accent of Amazon woman'."
Marie also has three dogs, a weimaraner named Blu, a mixed breed named Coco (because it looks like she stuck her nose in some cocoa powder) and Peanut the physics pug who everyone loves. "You can always hear them barking when I'm teaching. They drive me crazy when they do that."
Leave a Comment