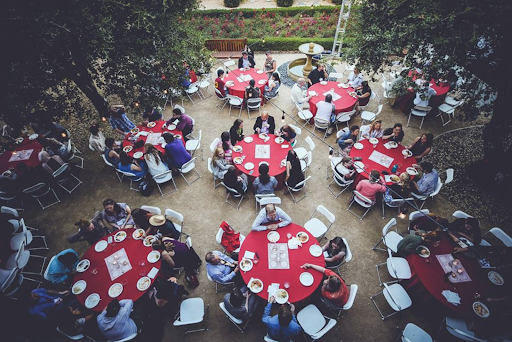 As Stanford OHS students, we all have vivid memories of our initial days, weeks, and, for some, even the first month at this institution. We recall the daunting and stressful experience of adapting to a new environment. Each of us adapted at our own pace, and for some, this adjustment period felt like a solitary journey. To those of you who might currently feel cornered and unsettled, believing you have no one to rely on, I want to introduce you to Stanford OHS's StartUp and the various in-person gatherings held throughout the year.
These group events provide opportunities to build connections within the OHS community, which can significantly contribute to your success throughout the academic year and offer a much-needed respite from stress.
Ms. Revathi, a Mathematics teacher here at OHS, fondly reminisced about her participation in a local StartUp event at Great America on September 9, 2023. She shared that the opportunity to interact with numerous students in a face-to-face setting was highly enjoyable. Ms. Revathi expressed delight in connecting with both her current students and those she had taught in previous years.
"These in-person events end up with students making life-long friendships, and the interaction between students, teachers, and staff are usually the high points of being at OHS," she said.
Along with Ms. Revathi, classmate Connor Yeh emphasized the importance of students attending in-person events held by Stanford OHS. According to Connor, attending in-person gatherings is an essential way to form connections and friendships with other students.
"
These in-person events end up with students making life-long friendships, and the interaction between students, teachers, and staff are usually the high points of being at OHS.
— Ms. Revathi
Conner said, "In-person friendships are generally stronger than one's created online, so I believe attending events and meet-ups is crucial in order to connect with the OHS community."
Connor specifically referenced several events he has attended during his time as an OHS student, such as Summer @ Stanford and the local StartUp gatherings held in both 2022 and 2023, which took place at Capitola Beach and Great America. Reminiscing on these events, he says, "I enjoy all the various events that Stanford hosts, I get to meet up with friends and take a break from school work, which is always nice".
For those unfamiliar with what "StartUp" entails, it is an event organized by Stanford's OHS Parent Association. They coordinate online and in-person group gatherings all around the world.
These gatherings are an avenue for individuals to meet and interact while enjoying engaging activities. This year, the StartUp event took place on September 9th. If you happen to have missed the one in your state, do not fret, as Stanford hosts a variety of group gatherings throughout the year. These events include Homecoming, Pixel Gathering and Graduation, Pixel Festival, Summer at Stanford, and many other scheduled meetups.
Attending these events carries immense importance for Stanford students. As a first-year, full-time junior myself, I can attest that the academic pressure can be worsened by unfamiliarity and social isolation. My experience attending Summer @ Stanford helped me form new connections and friendships. These new friends continue to provide invaluable resources and outlets to combat the frequent unease as the school year progresses. I eagerly anticipate these upcoming events, not only to reunite with friends but also to relish stress-free moments with them.
It's easy for students to become consumed by academic responsibilities and forget the joys of being carefree. Stanford OHS offers these events as a welcome respite for all the hard work we as students have accomplished throughout the year.
A fellow full-time junior, Nascha Martinez, emphasized the importance of Stanford's StartUp and events that are held year-round. She mentioned that these gatherings helped her forge numerous friendships and bonds, easing her integration into the community when contemplating if she, a rising Junior the last summer, should stay as a part-time student or make the switch to full-time.
She said, "Creating bonds and friendships is vital as a Stanford OHS student; attending in-person events offers a necessary break from school work and reminds you to embrace your youth".
For those of you who may be hesitant to attend in-person events due to the fear of not knowing anyone, please understand that you are not alone. I've experienced the same apprehension myself. I comprehend the challenge of approaching strangers, particularly those of your own age. However, I can also assure you that in this environment, encountering a mean-spirited student at OHS is highly unlikely. We extend a warm welcome to all, so don't hesitate to introduce yourself.
Returning to my earlier conversation with Nascha, she agreed with my observation that every in-person event holds the potential for forming new friendships, and there is always someone new to meet and interesting conversations to engage in.
She said, "Attending in-person events is a means to strengthen the connections you forge throughout your school years, whether it involves classmates or individuals you've encountered at previous school functions. There is always room to expand your social circle by meeting new people as well. Personally, I've had the privilege of getting to know many individuals I might not have met if I hadn't attended these in-person events".
So, to every member of the OHS community, remember you are never alone, and if you ever feel that way, I encourage you to attend an in-person school event this year. I assure you there's a friendship waiting to be formed.