#stopasianhate: A Monumental Movement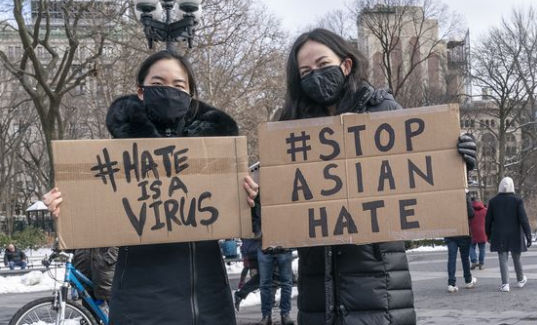 On Jan. 28, 2021, a Thai man—84-year old San Francisco resident Vicha Ratanapakdee—was brutally assaulted while going out for a walk. The following week, his family confirmed that at 3 a.m. on Monday, Jan. 29, Ratanapakdee died from the injuries sustained from the attack.
On Feb. 25th, 2021, a 36 year-old Asian man was stabbed with a butcher knife in New York's Chinatown. The brutal assault left him in critical condition and he was forced to lose one of his kidneys.
Instances of such horrific attacks are on the rise due to the hate launched toward Asian American Pacific Islanders over COVID-19, or the "Chinese virus", as known among systemic racists. The discrimination—and on occasion just pure hatred—can be felt growing among our country's citizens.
The wave of recent attacks on Asian-Americans has attracted national attention, spawning a new movement: #stopasianhate. The rise of this new movement has begun to garner awareness, backed by major companies such as Nike, Tommy Hilfiger, and ESPN, as well as A-list celebrities such as Gemma Chan, Chrissy Teigen, and Jeremy Lin, all of them utilizing their social media platforms to speak out against the deeply-rooted racism in our country. 
But while the Asian-American community is reeling from recent headlines, the #stopasianhate movement has gone majorly unnoticed by non-Asians. A quick glance on anyone's explore page and you'll notice that the majority of posts written on AAPI violence were posted by Asian-Americans themselves. Collectively, we're trying to show that we're angry, hurt, and reaching out for help. The support we've received, however, is nowhere near enough.
—
"High School Teacher's Nose and Teeth Damaged After Being Attacked With a 'Rock' in Seattle Chinatown" (NextShark, 2021).
"Family-Owned Fruit Business in San Jose Has All Their Valuables Taken By Burglars" (NextShark, 2021).
As I'm writing this, new @NextShark (a leading source for Asian-American news) Twitter notifications report another two hate crimes that were disclosed on Mar. 4th, 2021. Did you know of the existence of these hate crimes? Probably not. Unless you actively keep up to date with Asian-American news sources like NextShark, you may not have even known of the severity of attacks against Asian-Americans. Perhaps you weren't even aware that these hate crimes were happening. It is not okay for our country to stay silent on this issue. The number of attacks on AAPI are growing substantially, and staying silent only creates a dangerous precedent for the future.
That said, it is not too late to take action and change the course of history. The AAPI community needs all the support it can get from its non-Asian allies. Educate yourself on the attacks that are happening. Share these stories with your friends and leverage your platform to amplify crying voices. Donate to and support Anti-Asian Violence organizations. And most of all, break the silence—join the angry call to #stopasianhate.
Resources to Support AAPI Communities
https://stopasianhate.carrd.co/ 
https://www.gofundme.com/f/support-aapi-community-fund 
Learn more by attending OHS's staycation discussion on Wednesday, March 24th @ 9am PT,
#StopAsianHate: The Deep-Rooted History of Yellow Peril, Xenophobia, and the Model Minority Myth
Leave a Comment