Student Profile: Beyond Writing with Cassidy Kao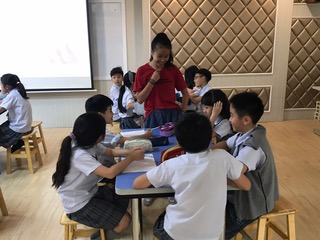 Inside the classroom of a bilingual school in Taiwan, thirty students are gleefully penning poetry in a creative writing workshop, their teachers scurrying everywhere to take photos. It's an exciting opportunity for them, to learn about poems from a self-published author who is also a seasoned creative writing teacher, a CEO and believe it or not, a freshman.
At only 13 years old, 9th grader Cassidy Kao is already an award-winning poet and author of four books. She is also the founder and CEO of iPoetTree, an organization aimed at making young, reluctant writers more confident about their writing through poetry. Kao's passion has won her the 2014 Children's Poetry Contest at Preschool Powol Packets and has led her to teach in classrooms all over the world.
Kao kick-started her stellar literary journey when she was just eight years old; before that, she had never expressed any interest in writing.
"I mean, what kind of 8-year-old wants to sit down and write a poem?" she chuckled. "But, in April, to celebrate National Poetry Month, I began to write one poem every day and paste it on a wall to grow my own PoetTree."
Not long after, Kao's PoetTree had grown to include a massive number of poems; this gave her and her mom the idea to compile them, along with explanations for each piece of writing. Soon, her first book was published and put on the bookshelves, called Roller Coaster: A Kid's Guide To Writing Poetry.
Once published, Kao's authorship launched her on a roller coaster ride that only ascended. The young poet published three more books: Constellation Exploration, Retelling Shakespeare's Tragedies and Artist's Fortune.
She also created her own organization and started to teach free creative writing workshops to children in the community.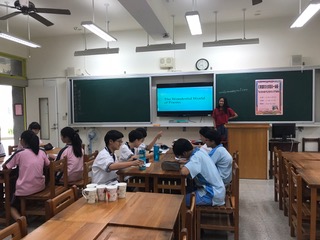 Her organization, iPoetTree, teaches children to write different types of poems through Kao's self-made curriculum and instructional videos on the organization website. They also have the chance to become published poets: Kao selects a collection of their work to compile in a book at the end of each school year.
Kao has expanded her efforts to a global scale, conducting writing workshops in countries all over the world, in places as far as France, Abu Dhabi, and Taiwan.
When asked about her favorite experiences, she said, "I really enjoyed teaching the class in France…Another unforgettable one was my first class, which I taught when I was eight. It was at a bilingual school in Taiwan. It was a bit tough because, in their education system, English is only introduced in second grade, so it was a little hard trying to get them to talk. Still, it was a good experience and I had lots of fun."
Breaking through language barriers is a primary obstacle in teaching that she overcomes with her flexibility.
"It was a bit challenging at first to really connect with everyone from these different places, but luckily I could speak their language a little bit," she said.
Whether in Mandarin or French, she makes an effort to engage with her students on a deeper level.
From a poetry compilation and how-to guide to a self-launched organization reaching out to all corners of the world, Kao's writing career is no doubt flourishing.
"It's just awesome to look back at my first class, where there were only two students and no adults allowed. But now, I'm able to teach classes with over thirty students, and there are a ton of adults everywhere just taking pictures – it feels really validating and fulfilling!" Kao exclaimed.
Kao hopes that she will enable more kids to enjoy writing through the projects of iPoetTree.
"It would be so cool if, the next time I see these kids, they already have made their own books or taught their own classes," Kao said. "I love teaching kids and helping them to do all these things."
Leave a Comment