The Ballot is Stronger Than the Bullet: A Global Perspective on the US Elections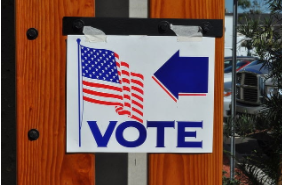 With the United States Presidential Election tomorrow, the suspense in the U.S. is slowly building up. On November 3rd, 2020, the 59th quadrennial U.S. presidential election will officially end. Its results will determine if a new candidate will take the presidential oath of office or if the current President will receive a second term.
The two main candidates battling it out for victory are Donald Trump and Joe Biden. Donald Trump, the current president of the United States, is affiliated with the Republican Party, while Joe Biden with the Democratic Party. Another popular candidate is Kanye West, who is running independently.
As the deadline for voting nears, the OHS Observer team wanted to share some international perspectives from the OHS' diverse community on the U.S. Election. The listed student opinions reflect their thoughts about the issues and effects of the election. 
Aarav Jindal, an eighth-grader from Gurgaon, India, stays informed about the U.S. election by watching TV news channels. One of his concerns is how its results will affect India-U.S. relations. While India has signed a few Letters of Offer and Acceptance with the U.S. this year, the election's effects on the countries' relations are uncertain. Aarav is also worried about the state of the Indian stock market. Another student from India states that had she been able to, she would vote for Joe Biden because "he might be able to run the country better." She also "really like[s] the fact that he is running with Kamala Harris." 
Emir, a resident of Istanbul, Turkey, states that his biggest worry is how the outcome of the election is going to change the relationship between the U.S. and his country. He is also concerned about how the denouement will change the restrictions on arms. For example, presidential candidate Joe Biden, if elected, plans on bringing gun violence in the U.S. to an end by banning the manufacture and sale of assault weapons, among other things. 
LGBTQ+ rights and the changes they will undergo following the election is another issue that poses for an OHS student from Berlin, Germany. During Donald Trump's presidency, he rescinded protections for LGBTQ+ students and banned transgender people from serving in the military. If he is to be re-elected, it is possible that these acts of discrimination will continue. 
An anonymous international OHSer admits that there are quite a few issues that stand out to them regarding the election. Their first concern is immigration policies: "How will the U.S. treat and view immigrants and [if the] process [will be] fair, straightforward, and just? The second and third concerns have to do with health care provisions and economic recovery in light of the pandemic. Will all be seen and treated with fairness and justice? Will the government respect those who identify as women? Will citizens get equal access to opportunities that will alleviate their health and financial problems?"
An OHSer from South Korea stays up to date by using the Internet. She says that if she could vote, she would vote for Biden. When asked why, she replies: "Well, I wouldn't say that Joe Biden is the best presidential candidate but when it's between him and Trump, I think Biden is better. This interviewee said that Trump should not retweet what other people say because a president is supposed to make their own decisions (although they should take into consideration what the people think)". She notes that "Trump also changes his words a lot and doesn't plan ahead so his decisions are sometimes surprising."
Another student prefers Biden over Trump as well. They believe that "Trump's behavior during debates and the way he handled COVID was really disturbing. The way he is insulting Kamala Harris is also very upsetting. Joe Biden is an experienced politician and he might be able to run the country better. I support him also because he is running with Harris." 
Hetong (Chloe) Zhou, a seventh-grader from Chengdu, China, would vote for Joe Biden as well because her favorite cellist, Yo-Yo Ma, endorses him.
Please Note: This article does not reflect the authors' opinions.