The Story of Ester Weinhardt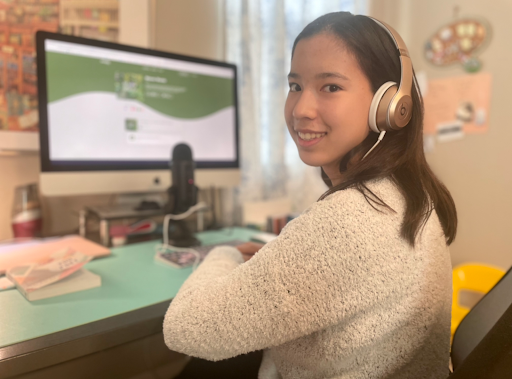 Sitting down at her desk with her black microphone in front of her, Ester started to speak. She spoke passionately and confidently, speaking what came to her mind. She thoughtfully placed her words, forming a genuine, intelligent, and concise analysis on the poems she read and liked. Hoping to get back to her podcast, Ester has journeyed further, creating her own path through the forest of writing making multiple stops at different perspectives of the world.
Born in Germany, now living in Southern California with her parents, Ester Weinhardt is a sophomore at Stanford Online High School, and she has passions that include creating music through the piano, playing tennis, reading, writing, and learning about psychology, literature, and art. Last year Ester served as Clubs, Achievement, and Student Life Beat Reporter of the OHS Observer, and this year, Ester is Co-Editor-in-Chief of the OHS Observer.
Ester says her favorite part of OHS "is the community, everyone, the students, the teachers, and the parents are all supportive and have this passion for learning."
She believes that this in turn leads to lively class discussions and respectful debates, with topics ranging from whether pineapples belong on pizza to ethics and philosophy. To comment on all of these topics and aspects of OHS, Ester has taken up the role of Co-Editor-in-Chief of the OHS Observer, alongside Lily Sun.
As Co-Editor-in-Chief of the OHS Observer to start her own podcast, Ester has achieved many roles as a journalist. Ester plans to maintain a more consistent publishing schedule and publish more articles.  She also plans to send out more polls to the OHS community. Ester believes that "OHSers have a lot of great ideas—if only people would listen to them."
Through journalism, she hopes to "shed light on those voices hidden in the dark, such as the voices of the students who you might not hear too often." She works to highlight the individual students at OHS and their accomplishments in order to create a stronger Pixel community.
Over the pandemic, Ester has made good use of her time. To stay in touch with her family and dive deeper into her passion for reading and writing, Ester published a family newspaper. It highlighted the different accomplishments of her family over the week. It also included the weather for that week in the various cities her family lives in,, reviews for any books/movies anyone read or watched that week, and usually some exciting news for the week, along with a little poem or a comic as well.
In addition to the OHS Observer, Ester writes articles for the mental health awareness organization Psych2Go. She also has her very own podcast called Woven Words, centered around poetry. She discusses the history and poetic technique of many popular poems.
"Ester is kind and thoughtful — she thinks through things," said Grey Peter, one of Ester's best friends.
Ester's passion for learning and communication have not only allowed her to excel in her extracurriculars, but combined with her love of the OHS community, make her a talented journalist. She looks forward to trying new things, meeting new people, learning about different topics, and taking advantage of the opportunities that present themselves. Though Ester isn't leaning towards a career in journalism, she will continue weaving words wherever she goes.
Leave a Comment