A to (almost) Z: OHS Clubs and Circles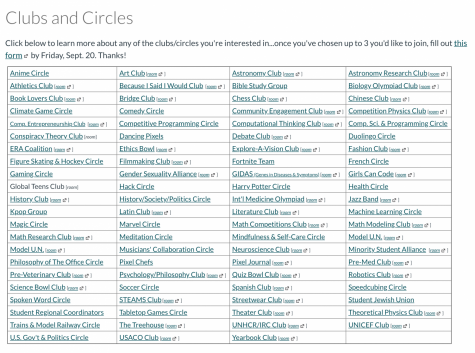 From anime circle to yearbook club, over 80 clubs and circles were on display during OHS's annual Club and Circle Fair, allowing OHSers the opportunity to foster relationships with students and teachers across the world.
Clubs and circles are student organized groups designed to target certain interests among students within the OHS Community. Clubs, like the OHS Observer, are sponsored by the school, have a designated Adobe Connect room and are assigned an OHS staff member as an adviser. Circles, on the other hand, are not official OHS organizations and usually meet on Skype or over other platforms.
Whether it be winning competitions or just having fun, joining a club or a circle comes with many benefits.
"They promote community building and conversation amongst the members as they discuss something that they are passionate about or seek to learn more about," Ms. Momary said in an email.
Elliott Carlisle and Xenya Currie, leaders of the Latin Club, can certainly attest to that.
As Carlisle puts it, Latin Club is for "Classics enthusiasts". Meetings include discussing ancient Roman and Greek culture, celebrating ancient Roman holidays, and playing games like Roman Mafia.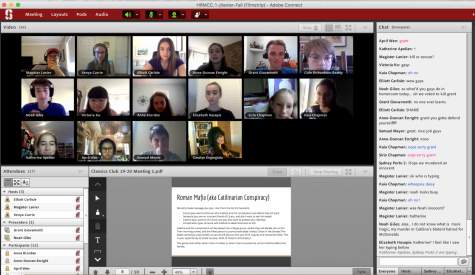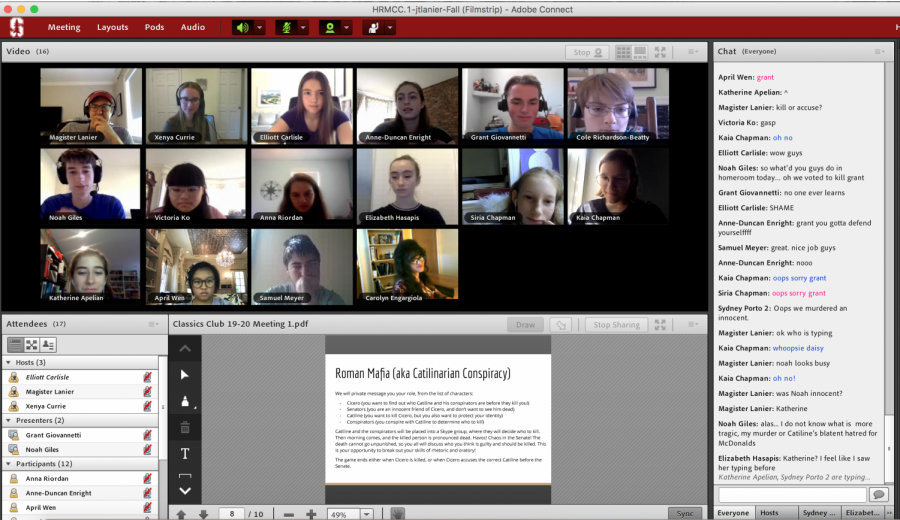 "It sounds really nerdy, but we do have fun," Currie said.
As with any club, all members of the OHS community are allowed to join Latin Club—regardless of skill.
"If you want to engage in classics in a fun, non-academic, low stakes way, [Latin club] engages in a more fun sense as opposed to something you're being forced to learn or memorize" Carlisle said.
For students who seek higher stakes, clubs like Explore-A-Vision, Science Bowl, and Ethics Bowl offer students the opportunity to participate in competitions against other high schoolers.
For the past two years, teams from the Explore-A-Vision Club have won honorable mentions for their designs in the ExploraVision competition. According to the ExploraVision website, the competition challenges students to devise a creative solution to real world problems through the use of new technologies that will be developed in 20 years.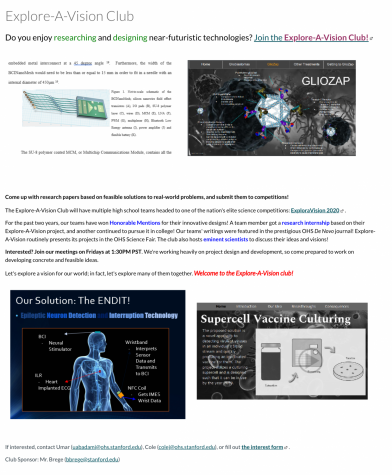 Some of the Explore-A-Vision Club's past ideas have included a partially invasive EEG to cure epilepsy and biological nanobots designed to destroy cancerous tumors in the brain.
"The competition is really fun," said Cole Johnson a co-leader of the Explore-A-Vision Club. "It's good practice for brainstorming because there aren't supposed to be any bounds, and then it's good to have a reality check when you're actually struggling to figure out how you're going to do it."
Although the fair is now over, club and circle displays will remain up for the remainder of the school year, and students can still sign up for clubs/circles by contacting club and circle leaders. If a student has not yet received an email about their club/circle submission they should email [email protected] to follow up.
Ultimately, clubs and circles work to connect the OHS community despite the geographical challenges of attending an online school. They create memories, and bonds with students and teachers that are sure to last beyond these students' high school years.
Leave a Comment